Around the world during Lockdown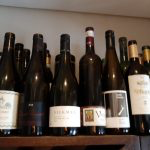 Around the World during a South African Lockdown
As South Africans we prepared ourselves for a 21 day lockdown that turned into a 40 day lockdown. We did the 21 Day Braai Challenges, what next? We decided to take a trip around the world in our own house.
One of the best part of being a winemaker, on your travels aboard, your receive a lot of 'not that commonly known wines', or other wines that you can't get in South Africa. You also get the opportunity to buy a variety of wines for your collection at home. We looked through our home cellar and we drank international wines from different regions and countries around the world, during evenings around the braai or dinner table. What an experience that was to share with my wife.
Started our journey with a Quinta del Obispo Mencia 2016, from Catilla y León Spain. Mencia is a grape variety common in the northwest of Spain. We have covered most of the European countries (see list below of wines we drank). I am going to mention some interesting wines. Ningxia Helan Mountain Cabernet Sauvignon 2015 from Ningxia Province in China, what an interesting wine. Tasting the wine and knowing the capability of the Chinese people, I am convinced as their vineyards aged, it will be a country making more beautiful wines, like this one, in the future.
Some of my Italian friends would be proud to know another outstanding wine was Barolo from Principiano Ferdinando Serralunga 2006. The wine that blew my socks off was a wine from Serbian Vrananc from Jovic Winery. This is something I will buy if it's available in South Africa. We have crossed the world in a few days after starting in Spain, made a visit to New Zealand, Australia, USA, China, Serbia, France (Rhone, Burgundy and Bordeaux) and we ended our journey with a 2004 Tokaij from Hungary.
The only down side of this journey is that we would have to start our collection from scratch again. But it was worth it. Life is too short not to enjoy good wine.
List of Wines not named above blog
Grey Cabernet Sauvignon 2015 (Chile)
Samuele Cabernet franc 2005 (Somona County, USA)