A Semillon Affair (Part2)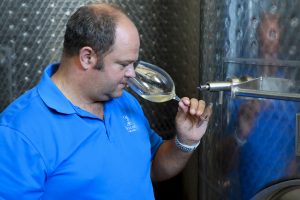 Semillon Affair (Part2)
In our previous post we have explained the Morningstar Semillon. Our next Semillon originates out of the beautiful Franschhoek Valley and is named Robertsvleipad Semillon.Naming the wines after the roads that leads to vineyard is a practice that is used in the Hunter Valley.
This vineyard is planted 20 years ago and consists only of the GD1 clone that is synonymous with the Semillon vines you will find in the Hunter Valley. Franschhoek is also known in South Africa as the mecca of Semillon. Semillon is just one of those varieties that gives you,as a winemaker,so many options and different styles to make.
The Robertsvleipad Semillon is 100% stainless steel fermented and aged on the lees for 10 months before bottling. Our aim is to sell only 20% of our production every year and build up a vintage that you as a consumer always have the option of vintages.
When we arrived back from the Hunter Valley,we purchased two smallstainless-steel tanks to specially produce our Semillon's. In 2018 the maiden vintage of the Morningstar and Robertsvleipad Semillon,our two tanks were too small for the amount of grapes received. I decided to co-ferment approx. 500kg of each vineyard in a Flextank and inoculate the wine with Lafford Spark yeast. This type of yeast is predominantly used to make MCC (Champagne) style wines. The idea to use Champagne yeast was advised by Tulloch Wines. That was the birth of our Bizoe Crossroad Semillon.
During our time in the Hunter Valley we met amazing people and tasted great wines. Wines and people that stood out during our trips,were the wines of Andrew Thomas (Thomo) Wines that specialise in Shiraz and Semillon. No wonder we had a great time and tasting with Andrew. Our other highlight was spending an afternoon with the great Ian Riggs of Brokenwood Wines. Ian just recently being inducted as a Member of the Order of Australia (AM) – Congratulations Ian!The Wealthof knowledge I received from Ian, Bruce and Andrew is much appreciated.