On Monday 29th of March we completed harvest 2021 with our Bizoe Idioglossia Chardonnay grapes arriving from Elgin approx. 2 weeks after we completed Stellenbosch grapes. This just shows again the role nature and region play in the world of wine.
The day has arrive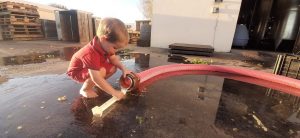 d that I have trying to keep quiet for the past 4 months, the release of our maiden vintage Bizoe Genant. Rikus and Estalét youngest son Rikus Jnr is the only member in the household that was short of wine named after him. Those days are gone, as the Genant was made in honour of Rikus Jnr.
The meaning of Genant in Afrikaans is "having the same name as somebody else." Would be used in context "dit is my genant"
More about the wine, Shiraz and Mourvèdre grapes are sourced from old bush vines planted in Darling wine region. Grenache is coming from a warmer climate of Wellington. Although warm climate the vineyards is tucked away in the corner of the Bains Kloof and Groenberg Mountain Range.
In the cellar grapes were processed separately in open fermenting tank. Before fermentation started we used a process of cold maceration to extract delicate flavors out of the skin of the grapes followed by natural fermentation. The wines were tucked away in 500L barrels for approx. 18 months before bottled on 11 December 2020. It was difficult to keep this secret of a new wine that I have been working on for over the last 2 years.
Ending of for me as a father of Rikus Jnr, there is nothing giving me more joy to see how this little boy develop in life and how this bottle of Bizoe Genant 2019 will develop and already looking forward to his 18th birthday to enjoy a glass of Genant with my Genant.