The New Normal Wine Trade (Part2)
New Normal Wine World (Part 2)
A lot of people will think that the new normal wine world, will most likely … only be ordering wine-on-line. Luckily that is not the case, it is always fun presenting wines at dinners. Last week we had an amazing wine dinner experience at Capito Restaurant in Hazelwood Pretoria. Capito opened its doors a few months ago in The Club Retail Centre in Hazelwood.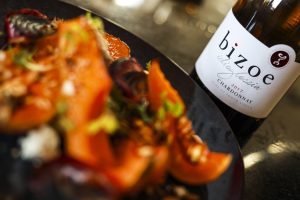 The old faithful in Pretoria will always remember their days eating beautiful Italian Cuisine at Capeesh. Robert Paoletich (Robby) has opened a new restaurant called Capito. We could write articles of the new setting, but that would be 'normal. Congratulations Robby, the new Capito will be a success. A night to remember. I would recommend Capito to anybody, worth visiting a hundred times.
Exciting new wine bar in Pretoria also opened up recently called IntoWine. The whole Bizoe range is available at IntoWine per glass. What added to the excitement is that Croydon Vineyard Estate wines and some of my University of Stellenbosch class mates' wines is also available at IntoWine. IntoWine is situated in Selati Str, right underneath Caraffa Restaurant.
Back to the mother city, I had the opportunity to introduce my wines to the guests, at the Grub & Wine Restaurant of Chef Matt Manning, in a free wine tasting format. The evening is free as long as you make a booking. It's well worth booking your seat for the tasting and make sure you get a seat in the restaurant afterwards.
Getting back into the thick of things in the new normal wine trade is fun. There is new opportunities opening its doors. As said in my previous blog post it's not all doom and gloom, the light is starting to shine bright at the end of the tunnel.
Change is only scary until it becomes your new normal, Keep going.