Malbec isn't only a Argentinian Wine
Malbec 2020 Challenge Awards
 At the awards functi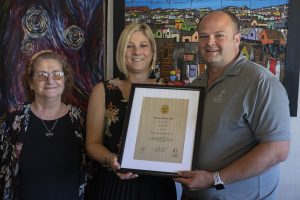 on held at 96 Winery Road outside Somerset West on Thursday 15thOctober, the winner of the 2020 Malbec Challenge was announced. First time entry Mount Vernon 2015 Malbec was the highest scoring wine in the line-up of 21 wines.
There were 11 gold medals awarded, including Mount Vernon, well up on the five in 2019, a recognition of the quality of the wines and growing expertise of the winemakers.
Despite the Lockdown challenges, the 21 entries compares favourably with 26 last year, (which included multiple vintages), and while seven of those producers didn't have wine to enter this year, that was compensated by 11 new producers who entered their wines in the 2020 Challenge. It bodes well for the future, for when things get back to normal, that there is such a high level of interest.
The Challenge was organised by Celia Gilloway of Events by Celia.
Once again, judging was done blind (no origin or vintage given) by a panel of five tasters using the international 100 point system, and took place on September 29th. The panel, chaired by Cape Wine Master Christine Rudman, consisted of Anton Swarts, Cape Wine Master and senior winemaker at Spier in Stellenbosch; award-winning wine and food writer Malu Lambert, all of whom had judged in 2019; Samarie Smith, ex-editor of Versnit in Die Burger and currently PR consultant for the Cape Winemakers Guild; and Johannesburg-based sommelier Tinashe Nyamudoka, founder of Kumusha Wines.
When asked what had inspired them to plant Malbec at Mount Vernon, the answer from Debbie Hooper, cellarmaster and co-owner with husband Dave, was that it was on the advice of Walter Finlayson. That wasin 1999/2000, and while initially they shared early harvests with David and Walter at Glen Carlou, as their own demand increased, the full crop was harvested for Mount Vernon.
Plantings nationwide are still small, well under 1% of vineyards, and production is limited.
A juicy, soft-skinned variety, Malbec requires care in the vineyard to avoid over-cropping or sunburn damage, and in the cellar quick and careful fermentation to prevent oxidation. The winning gold medal wines used either only older oak or a combination of new and used barrels, to showcase the succulent drinkability part of its character.
The competition has a generous sponsor, RX South Africa, agents of Tonnellerie de Mercurey wine barrels, an internationally respected family-owned specialist business based in France. The oak comes from three different forests, to create a wide range of barrel styles and qualities for international wine cellar requirements, with the stave mill located in Champagne.
Mount Vernon's prize is a free new barrel, size of their choice, while additionally, RX South Africa provided funding for the Awards function.
OVERALL WINNER
Mount Vernon Malbec 2015
GOLD
Bizoe Idioglossia Malbec 2018
Anura Reserve Malbec 2017
Bellevue Malbec 2017
Morgenhof Vintage Select Malbec 2014
Mitre's Edge Malbec 2018
Benguela Cove Malbec 2018
Bushmanspad Malbec 2018
Ondine Malbec 2018
Sol & Pieter Willem Eksteen Nosotros 2018
Sonklip Malbec 2018