Head over Hills Weekend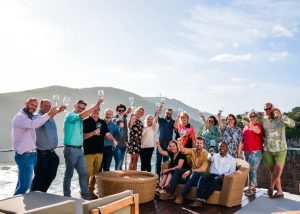 Bizoe Wine were invited by Martin and Theresa Hansson from Head over Hill Luxury Guest House to attend their annual wine show case they present in Knysna. Heading down the N2 early Friday morning to be in time for day one of the show. Plenty of time to think about 2020 and luckily my neighbour opted in to drive with me to meet up with his brother in Wilderness.
Arriving in Knysna it's time to switch on Google Maps to find Head over Hills Luxury Guest House. Up and down hills until I reach the final climb thinking to myself if there is another drop its into the ocean. Walking into the guest house you would need to pinch yourself to thinks this were you are spending your weekend.
Joined by Le Lude, Kaapzight, Hartenberg, Boschkloof, Simonsig, Remhoogte, Groote Post, Jouney's End, Quoin Rock and Luddite Wines. We were treated the moment we arrived. In between we had guest arriving for wine tasting, tasting other producers wines is always a treat as we don't always have time in our days to meet up and talk about wine.
Highlight of the weekend when Martin took us into his private cellar under the guest house and treated us with some of most sorted wines in South Africa. Each had an opportunity to pick a bottle and present to the rest to discuss between one another the wine and come to a conclusion on the cultivar, country and vintage of the wines. Stand out wine for me and most the group was the Le Rich Cabernet Sauvignon 2008. Thanks Martin, Theresa and Sulanie for a great weekend!